If you have it done professionally, it can take anywhere from 15 to 45 minutes to have your vehicle's oil changed depending on the location you take it to and the services performed alongside the oil change. If you do it yourself, it can take anywhere from a 30 minutes to an hour.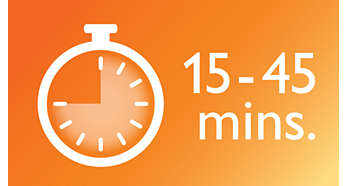 Quick lube shops that specialize in quick oil changes can do the job in under 15 minutes. With this setup, the customer can drive into the bay and have the work done on the spot. Even payment can be done from inside the car, so the owner never has to leave the vehicle. General repair shops and dealers usually take between 30 and 45 minutes because the mechanic will check other fluid levels.
It's not uncommon for shops to get the job done in less time than they say it will take. They do this in case there's a problem that increases the time it takes to do the work: after all, if they say it will take an hour and it's done in 30 minutes, you'll be a lot happier than if you're told it will only take 20 minutes and it ends up being 30.
There's also "flat rate" booking: the manufacturer specifies how much time it takes to make a repair, but an experienced mechanic will know how to do the job even faster. These flat rate mechanics are paid by the time it's supposed to take, not what it actually takes, so they have an incentive to do the work quickly.
Oil Change Process
Doing the oil change yourself usually takes between 30 and 60 minutes, depending on your skills and available tools. Here's how that breaks down:
Opening the drain plug takes about two minutes.
It typically takes around 10 minutes for the oil to drain completely, but the oil can be left to drain while replacing the filter.
Newer engines use a filter held in place with a filter cap. Removing the cap takes about four minutes.
Removing the old filter cartridge and seals takes two minutes.
Installing the new filter and seals takes about three minutes.
Getting the cap back on takes two minutes for a total of 10-11 minutes.
Resetting the "maintenance required" light takes a few minutes. Usually, this can be done by holding down a couple buttons on the dash.
Reinstalling the drain plug bolt with a new washer takes two minutes.
Adding fresh oil takes around four minutes.
Aside from jacking up the car, a well-coordinated DIY oil change can take as little as 15 minutes. However, there can be some problems that increase this time substantially. Some newer cars, particularly European cars, may have underbody panels that need to be removed to access the oil plug. If the oil filter or cap is overtightened, it can take a considerable amount of time to work it off of the threads.
At the most extreme end, if the oil has turned to sludge due to extreme age or lack of maintenance, the oil pan may need to be removed to get it clean. Getting the pan of may require lifting or removing the engine, turning a quick job into a multi-day affair.
What to Read Next
Over to You
We're interested to know – how long did your last oil change take and where did you get it done? Let other readers know by leaving a comment below!