In This Guide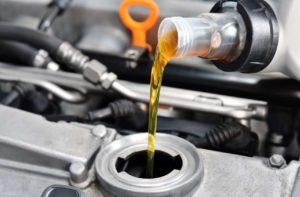 Fresh oil lubricates, protects and extends the service life of your engine. For an engine to operate at peak performance, you need to change your oil and the filter at regular intervals.
The cost of this essential maintenance can vary widely depending upon where you have the work performed. These expenses can add up over the years. Getting a complimentary change is a nice bonus that people may not expect.
When something is offered free, there is usually a catch. While there are ways that you might actually get a free oil change, you should examine the terms of the deal. Make sure that you understand the guidelines and other conditions because there is no such thing as a free lunch.
1) Do it Yourself
The best way to save money on is to do the job yourself. While you must pay for the oil and filter whether you perform the job or hire someone, you can save the cost of the local mechanic's or lube center's labor when you change the oil. The procedure is relatively straightforward and can easily be done in less than an hour.
2) Find a Coupon
Repair shops and lube centers often have special offers to drum up new customers and encourage future business. Look for these coupons online, in the daily paper, free weeklies and auto publications. They may offer to do the work for just the price of the oil and filter, waiving their labor fee. Make sure that they do not try to recoup their losses by overcharging for the oil and filter.
3) Car Wash Specials
As a way to encourage loyalty, car washes may offer a free change after a set number of visits or if you have your vehicle detailed. While not a common practice, it does happen. Off-airport parking lots may also offer them as an incentive for long-term customers. Look for these offers if you are traveling.
4) Holiday Specials
As a way of showing their appreciation, a business may offer veterans, active duty military personnel and the families a change free of charge on Veteran's Day or Memorial Day. Businesses may recognize other groups at other times during the year. While there is no guarantee that it may be a yearly offer, you may qualify for multiple specials throughout the year.
5) Free Oil Changes for Life
These dealer programs are not actually free. While it may sound like a good deal, these offers may actually cost more in the end. It is hard to understand how you are being taken. Smart individuals focus on what's being offered for "free" and fail to properly analyze the deal, which enables the dealer to overcharge you in other ways.
This gimmick is growing in popularity as it brings a lot of business and money into the dealership's service department.
First, the cost is often deducted from your trade-in, added to the price of the car, the financing or other fees. These costs are often hidden in such a way that the individual will not recognize them.
Second, customers often feel obligated to come in return for service. They become a captive customer. They have no way of comparing the true cost of the service with the rate charged by other service providers.
Third, the dealer may scare the customer into having other higher priced services performed in order to remain eligible for a free change. The additional cost of these other services may be more than what the dealership or other service centers would normally charge for the service, including and a new filter. The dealer may also pitch these services in such a way that people fall into the trap of thinking that they will lose this supposed benefit or void a warranty. As a result, they are too afraid to go anywhere else.
Cost Comparison Study
Car and Driver Magazine conducted a four-year cost comparison study. The results showed that typical dealerships offering oil change for life programs oversold other maintenance services that totaled $2,349. The required maintenance cost just $618. As a result, customers paid more for the car as well as $1,731 more in unnecessary repairs in order to receive a $25 maintenance procedure for free.
The bottom line is that nothing is free. Be aware and do not fall for gimmicks.
What to Read Next
Over to You
We're interested to know – have you ever gotten a free oil change? What is the least you've spent on a change and where did you get it done? Let us know by leaving a comment below!