What oil should you use in your vehicle? The most important factor isn't the brand – it's the specification. Your car's lubrication system was designed with a specific type of oil in mind, and deviating from that type can put the engine at risk of being damaged.
In This Guide
The most important factor when choosing an oil is its viscosity. This number is a rating of the oil's thickness. Most modern oils are "winter" formulations: the number before the "W" is the thickness when the oil is cold, and the number after the "W" is its thickness when the oil is at normal engine operating temperatures. That means a 0W20 oil flows like water when cold for easy starting, but thickens as it is pumped through the engine and heats up to better adhere to and lubricate internal components.
Talk to anyone who puts a lot of miles on their car and they'll probably have one particular brand or formulation that they swear by. Here's our list of the 8 best engine oils for a typical vehicle, including our top picks for conventional, synthetic, high mileage and diesel engines in 2019.
Review Summary
Best Conventional

Best Synthetic

Best for High Mileage

Lowers emissions and reduces environmental impact.
Wear protection performance for many driving styles
For cars with over 75,000 miles
Best Conventional

Lowers emissions and reduces environmental impact.
Best Synthetic

Wear protection performance for many driving styles
Best for High Mileage

For cars with over 75,000 miles
8 Best Engine Oils Comparison Table 2020
1) Valvoline – Best Conventional Oil
From $5 per quart
When looking for a motor oil, why not choose one from the company that invented the product? Valvoline founder Dr. John Ellis is credited as the inventor of motor oil, creating products for steam engines and later worked with Ford to make a formulation for the Model T.
The company's in-house development team continues to be at the leading edge of lubrication technology, working together with motorsport teams to meet the demands of their engines while also spearheading the development of formulations that improve the performance of high mileage engines.
Valvoline NextGen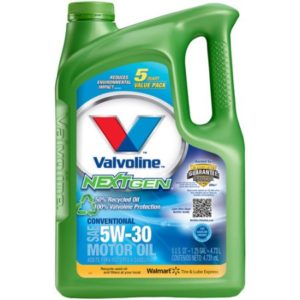 meets all the standards for a conventional oil, but it costs less than many major brands and is made with 50 percent recycled oil.
When Scientific American reported on the oil when it first came to market, they found that the refining techniques used to create this formulation allowed it to meet all the API requirements as a standard motor oil. Since then, other options using recycled base oils have hit the market, allowing buyers to maintain their vehicles while having a lower impact on the environment.
Valvoline is one of the few oil manufacturers who backup their high mileage oil with a guarantee. If your engine has under 125,000 miles on it, you can register it in a program that will give you some
warranty protection from the company provided that you keep up on maintenance records and only use their oil.
Valvoline MaxLife SAE 5W30 – Using the latest breakthroughs in distillation, this engine formulation is engineered for the issues facing high mileage engines. This oil helps by reducing friction, removing corrosive deposits and helps prevent oil leaks.
2) Mobil 1 – Best Synthetic Engine Oil
From $5 per quart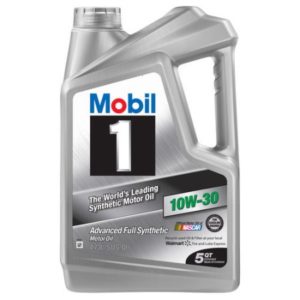 The best synthetic motor oil (just beating out the Amsoil mentioned below), is Mobil 1 10W-30 Full Synthetic Motor Oil.
Many of the cars in top level motorsports use Mobil 1. The company prides itself on its motorsports partnerships. They make the official engine oil of NASCAR and they're the oil sponsor of McLaren-Honda's F1 team. Their testing and development of oils designed for demanding racing conditions has worked its way into their consumer products.
Their synthetics are great at maintaining a low viscosity in very cold temperatures, and they've led the way in developing oils formulated for turbocharged engines. Turbocharged motors are notorious for high oil consumption due to the extreme heat generated by the turbo bearings, and with their adoption across the industry as a way to increase fuel efficiency, this is becoming an issue for not just sports cars, but regular consumer cars and trucks as well.
The best engine oils are synthetics like Mobil 1, Valvoline SynPower and Castrol Edge. Despite being highly refined and processed, they can be fairly affordable if you keep an eye out for sales and rebates.
There are also higher-end synthetic oils like Royal Purple, Motul and Amsoil. While they're often touted by armchair enthusiasts on online forums for their supposed superior protection, there is little concrete evidence to back up these claims. However, they offer at least the same level of protection as more affordable, widely available synthetics.
All that said, if your car and driving habits don't demand the added protection of a synthetic, there's no harm saving money by using a conventional oil.
3) Castrol GTX HM – Best Motor Oil for Older, High Mileage Cars
From $6 per quart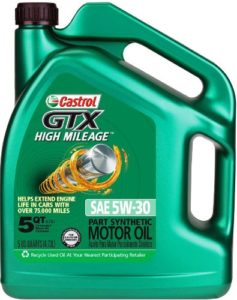 No matter how well lubricated the inside of your engine is, the metal components will wear down and internal seals will dry and shrink over time, allowing oil to get into places where it will burn away or leak out.
It used to be common practice to use thicker oils as engines got older, but these formulations cause extra strain on the oil pump and don't reach all the pathways to fully lubricate the engine. That means rather than fixing the problem, they can actually accelerate engine wear.
Contrary to popular belief, a synthetic won't slip through these spaces more easily and burn faster than a conventional oil. Synthetic and conventional oils with the same viscosity will flow exactly the same way. For high mileage engines, there's a better alternative to either of these: semi-synthetic oil.
Castrol GTX HM doesn't just work better in older engines, it adheres to parts longer, offering better protection when starting an engine after a long period of sitting. This makes it a great choice for older vehicles that are only used occasionally such as antique cars and winter beaters.
4) Royal Purple Synthetic Motor Oil – Best Oil for Diesel Engines
From $8 per quart

Royal Purple is almost unheard-of outside of racing circles, but independent tests show their oils are able to keep up with oils offered by the industry's leaders. Hot Rod magazine has experimented with their lubricants and managed to get more power out of a classic car and improving the fuel economy on a late model Ford pickup by switching to their oil and transmission fluid. While not a thorough test of their products' capabilities, these tests are much better than the speculation surrounding most oil claims.
5) Quaker State
From $5 per quart
Valvoline and Castrol may offer semi-synthetic high mileage formulations, but Quaker State has gone the extra mile, creating conventional, synthetic blend and full synthetic oils all designed for older vehicles, allowing buyers choose the trade off between price and performance that works for them. There are many supporters of their Defy High Mileage blends who have run the oil in vehicles that have anywhere from 200,000 to 300,000 miles on their engines.
6) Total Motor Oil
From $8 per quart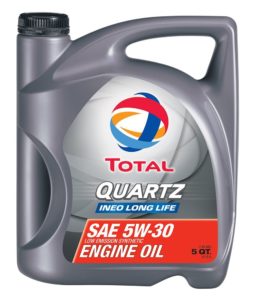 Total may not be a big name in the U.S, but they're a major player in Europe thanks to their extensive petroleum operations.  If you follow any motorsports outside of America, you're probably familiar with the brand as they've sponsored Red Bull's F1 team since 2009. That's the same team that won the constructor's championship title, and whose driver, Sebastian Vettel, took the driver's championship title that same year.
They're also involved in rally racing, supporting Citroën's efforts for over 20 years. Here in the states, they recently became the top sponsor for the International Motor Sports Association (IMSA) racing series, a top level North American-based motorsport that was formerly known as Grand-Am racing. Like Mobil, they're able to apply their experience developing oils for severe racing conditions to create formulas that meet the demands of regular consumer vehicles.
7) Pennzoil Motor Oil
From $4 per quart

While other manufacturers concentrate on lubrication performance, Pennzoil's development aims at reducing the formation of sludge to keep the inside of the engine as clean as possible. That translates to lower friction, maintaining power and fuel economy.
There's more to this strategy than just marketing. The brand works hand-in-hand with automotive manufacturers to develop oils for their engines and recently became the official oil supplier for Ferrari. There could be few better endorsements than the approval of one of the world's top supercar manufacturers, and even if you aren't going to run out and buy one of these vehicles, the resulting marketing campaigns with IMSA driver Rhys Millen tearing around Barcelona in a 488 GTB are great fun to watch. Using Pennzoil may not turn your commuter into a V12 sports car, but there's no doubt it will protect your engine.
8) Amsoil Synthetic Motor Oil
From $7 per quart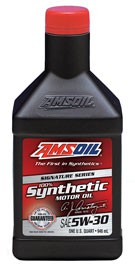 When did you first hear about synthetic oil? The 2000s? The 90s? Amsoil led the way, bringing lubrication technology developed for fighter jets to the automotive market in the 1970s, beating their competitors by almost two decades. Their synthetic formulations were the first to be recognized by the American Petroleum Institute, the same API that formulates all the standard performance tests for oil that automakers design their engines and lubrication systems around. Despite this leading position, the company has remained a small, family-owned enterprise with a focus on quality over sales.
Since it was founded, the company has stayed at the leading edge of oil development, concentrating on motorsports applications. Instead of working with a single high high profile series, they sponsor a wide range of racing events in the U.S. and Canada including motocross, Sprint Cup, Canadian Snowcross Racing and numerous off-roading events.
Conclusion
According to promotional materials and advertisements, each brand and formulation of engine oil is the best oil, offering unparalleled engine protection, fuel economy and performance. The truth is that almost every motor oil on the market these days meets the same API standards and can provide the protection our vehicles need, so long as they meet the specifications of the automobile's manufacturer.
Since oil manufacturers do their testing internally and secretly and there's no standardization other than the API's requirements, any advantage a particular formulation may have is hard to determine as the information available is speculative at best.
No matter what oil you choose, always compare the manufacturer's recommendations with the API "donut" seal on the back of the oil container. This seal will include the service category, oil viscosity, and whether or not the oil formulation is "energy conserving," which means it reduces friction for improved fuel economy. As long as the requirements of your engine are met, the oil is safe to use in your vehicle.
What to Read Next
Over to You
We're interested to know – what motor oil did you use for your last oil change and what did you think of it? Let other readers know by leaving a comment below!